Street Team Michael Jackson Cirque Du Soleil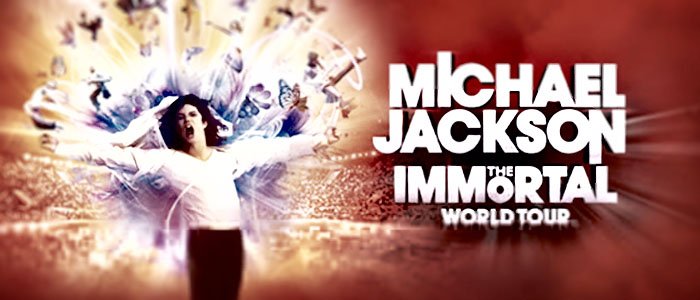 Street Team Michael Jackson Cirque Du Soleil at Sleep Train Arena Sacramento California
Street Team Michael Jackson Cirque Du Soleil
A riveting fusion of visuals, dance, music and fantasy that immerses audiences in Michael's creative world, Michael Jackson THE IMMORTAL World Tour unfolds his artistry before the eyes of the audience. Aimed at lifelong fans as well as those experiencing Michael's creative genius for the first time, the show captures the essence, soul and inspiration of the King of Pop, celebrating a legacy that continues to transcend generations.
THE IMMORTAL World Tour takes place in a fantastical realm where we discover Michael's inspiration and the wellspring of his creativity. The secrets of Michael's inner world are unlocked—his love of music and dance, fairy tale and magic, and the fragile beauty of nature.
The underpinnings of THE IMMORTAL World Tour are Michael Jackson's powerful, inspirational music and lyrics—the driving force behind the show—brought to life with extraordinary power and breathless intensity. Through unforgettable performances Michael Jackson THE IMMORTAL World Tour underscores Michael's global messages of love, peace and unity.
Check out link to see preview
http://www.cirquedusoleil.com/en/shows/michael-jackson-tour/default.aspx
CORVUS COMMUNICATIONS MARKETING FIRM AND AD AGENCY
Corvus Communications is a full service brand marketing and communications firm known for specializing in award winning identity, art, creative direction, experiential promotions, campaign development, packaging, photography, print and interactive design. Whatever your business needs to reach it's full potential, Corvus is the solution! We've developed innovative processes that ensures brand messaging is on point from conception to execution.
YOUR BRAND RULES ALL. In other words, we create brands and the supporting marketing efforts behind them. A brand simply does not exist without strategic marketing behind it, and the strategies must be completely tailored to your company from top to bottom. We make sure all aspects of your brand flows in unison from your logo, website, etc. Corvus will combine all areas in order to produce a strong, recognizable, and balanced brand.
Corvus' principal partners have extensive branding, marketing and promotions experience. We focus on targeted, effective, and unique "win-win" cooperative relationships that cultivate growth, awareness, market share, and most importantly, return on investment (ROI). It's a little bit art and a little bit science.
What We Do
Corvus Communications will analyze your business from the inside out. We will create and implement innovative ways to analyze your brand, contrive a plan of attack and execute that strategy to strengthen your business. We will connect to your targeted audience through our imaginative prowess, branding strategies, and street team marketing.
Our primary goal is to strengthen your brand from movie premiers, political awareness, apparel development, product launch, event awareness, graphic design, brand awareness, T-shirt designs, web design, national band promotion, local brands, and brand identity.